Anjani Courier Customer Care
Contact number: +9179-25461202 / 25450506
Official Website : http://www.shreeanjanicourier.com/
Shree Anjani Courier Service Contact Numbers & Address Of Branches
Here is a list of Shree anjani courier franchise across India with their phone numbers and address.
Branch City
Contact Number
Address
Headoffice (Ahmedabad)
+917925461202
Shree Anjani House 34, Old Lati Bazar Near ST Bus Stand, Raipur, Ahmedabad, Gujarat, 380022
Mumbai
+91 22 24157537
+91 22 24106708
1 G/F, Mistri Building, 96, Dada Saheb Phalke Road, Dadar (East), Mumbai, Maharashtra, 400014
Pune

+912032946510
+919370949333
CITY PINACLE BIDG,SHOP NO-5 G.F ,
NEAR 15AUGST CHOWK, SOMWAR PETH. PUNE, Maharashtra
Bangalore
+918022113211

14/1,G/F,29th,CROSS ROAD, CUBBONPET,OLD CHAMRAJ PET, Karnataka
Goa
+917403767777
SHREE ANJANI COURIER KAMAT TOWER SHOP NO 8 EDC COMPLEX PATTO PANAJI Goa
Jaipur
+911414910570
D 89 A MIRA MARG, B/H.COLLECTORATE , NR.COLLECTORY CIRCLE,BANNI PARKJAIPUR - 302016Rajasthan
New Delhi
+911128759580
1011, Ground Floor Faiz Road, Karol Bagh, New Delhi, Delhi, India – 110005
Kolkata
+918902900552
Lal Bazar Street, Mercantile Building, A Block, 2nd Floor, Kolkata, West Bengal, India – 700001
Bhiwandi
+919370104124
Riva Chember Shop No 03, Purna Bhiwandi Ways Old Thane Road, Bhiwandi, Thane - 421302, Opposite Center Point Hotel
Bhavnagar
+919376915056
78, Madhav Darshan, Waghawadi Road, Bhavnagar – 364002
Thane
+919987760122
Shop No 13, Basement, Rajdarsan Society, Dada Patil Wadi, Thane West, Thane - 400601, Opposite Platform No 1
Indore

+917314048851
UC-23, Silver Mall, 8-A, Rabindranath Tagore Marg, Below Bank Of India, Indore, Madhya Pradesh 302016
Bhopal
+919377292077
Plot no.R 52, Zone 1, MP Nagar, behind Hotel Shree Vatika, Bhopal, Madhya Pradesh 462011
Surat
+918000334124
SHREE ANJANI COURIER SERVICE PVT LTD, 423/2 SHREE LAXMIKUNJ, NEAR LALJI ESTATE JADABAVA, TEKARA ASHWANI KUMAR ROAD, Surat Gujarat
Aurangabad
+917276322828
Shop No 2 Pawar Plaza Building, Aurang Pura Main Road, Aurangapura, Aurangabad-maharashtra - 431001, Opposite Dakshin Mukhi Hanuman Mandi
Baroda
+918490004579
G/66, G/68, Indiabulls Mall Under Jetalpur Bridge Jetalpur, Baroda, Gujarat, 390005
Vadodara
+912652314124
919978203257 4, Harmony Complex, 28 Nutan Bharat Society, Alkapuri, Vadodara - 390007, Opposite M K High School
About The Company Shree Anjani Courier Services Pvt. Ltd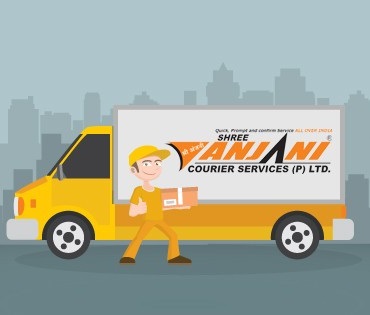 Anjani Courier Service Pvt. Ltd is a courier company in India that was founded in 2003.
It has an extensive network of branches across Northern India, especially Gujarat.
Some of the worth mentioning clients of Anjani courier includes TATA, IDEA, HDFC Bank, Uniliver, Reliance, and many more.
Fast Track Service offered by Anjani courier ensures the next-day delivery anywhere in India.
Contract booking service includes bulk couriers with free daily pick up and monthly billings.
Furthermore, throughout the course of this period, they have amassed an incredible list of clients who they continue to rely on and who are still the primary metrics by which they assess their success rate on a daily basis.
How can I track my Shree Anjani Courier?
Easy trackings is an automatic track and trace system that helps you track Anjani courier services online.