Saia Tracking Customer Care
Saia tracking customer service number: 1-800-765-7242
Email: [email protected]
Branch list
| | | |
| --- | --- | --- |
| Branch | tracking phone number | Address |
| Austin | +1 512-873-7748 | 8080 Purnell Dr, Austin, TX 78753, United States |
| Atlanta | (404) 635-5000 | 2765 Anvilblock Road, Ellenwood, GA 30294 |
| Albuquerque | +1 505-344-1026 | 6101 Hanover Rd NW, Albuquerque, NM 87121, United States |
| Boise | (208) 344-3567 | 665 West Amity Road, Suite A, Boise, ID 83705 |
| Baton Rouge | +1 225-358-0211 | 2827 North Ardenwood Drive, Baton Rouge, LA 70805 |
| Charlotte | (704) 599-7007 | 1101 West Craighead Road, Charlotte, NC 28206 |
| Columbus Ohio | (614) 870-8778 | 1717 Krieger Street, Columbus, OH 43228 |
| Corpus Christi | (361) 887-8224 | 533 N Navigation Blvd, Corpus Christi, TX 78408 |
| Dallas | (972) 263-7242 | 1002 West Oakdale Road, Grand Prairie, TX 75050 |
| Denver | (303) 375-0373 | 9860 Emporia Street, Henderson, CO 80640 |
| Des Moines | (515) 262-1945 | 5425 Northeast 14th Street, Des Moines, IA 50313 |
| Detroit | (313) 843-3360 | 1630 Miller Road, Dearborn, MI 48120 |
| El Paso | (915) 881-8327 | 431 North Clark Drive, El Paso, TX 79905 |
| Ellenwood Ga | +1 404-635-5000 | 2765 Anvilblock Rd, Ellenwood, GA 30294, United States |
| Fontana | (909) 356-2808 | 14731 Santa Ana Avenue, Fontana, CA 92337 |
| Fresno | (559) 499-6970 | 2575 South Sunland Avenue, Fresno, CA 93725 |
| Greenville Sc | (864) 968-8823 | 1887 South Carolina 14, Greer, SC 29650 |
| Greenville Nc | (252) 752-1372 | 2403 United Drive, Greenville, NC 27834 |
| Garland Tx | (214) 267-4100 | 4356 Singleton Boulevard, Dallas, TX 75212 |
| Houston | (713) 673-1925 | 9051 Railwood Drive, Houston, TX 77078 |
| Indianapolis | (317) 856-9250 | 4960 Decatur Blvd, Indianapolis, IN 46241 |
| Jacksonville | +1 904-751-0019 | 555 Whittaker Rd, Jacksonville, FL 32218, United States |
| Johns Creek | +1 800-765-7242 | 11465 Johns Creek Pkwy, Johns Creek, GA 30097, United States |
| Jonesboro Ar | (870) 935-1332 | 8210 Jake Road, Jonesboro, AR 72401 |
| Kansas City | (816) 231-1956 | 1534 North Jackson Avenue, Kansas City, MO 64120 |
| Kent | +1 253-872-0182 | 22203 76th Ave S, Kent, WA 98032, United States |
| Las Vegas | (702) 643-0002 | 4650 East Cheyenne Road, Las Vegas, NV 89115 |
| Memphis | (901) 396-1818 | 3430 E Raines Road, Memphis, TN 38118 |
| Miami | +1 305-685-1047 | 11405 NW 36th Ave, Miami, FL 33167, United States |
| Milwaukee | (414) 769-7878 | 4939 South 6th Street, Milwaukee, WI 53221 |
| Newark Nj | (973) 344-2705 | 580 Delancey Street, Newark, NJ 07105 |
| Okc | (405) 672-7500 | 1715 South Skyline Drive, Oklahoma City, OK 73129 |
| Orlando | (407) 859-6540 | 10451 Rocket Court, Orlando, FL 32824 |
| Omaha | (402) 592-7110 | 4423 South 67th Street, Omaha, NE 68117 |
| Phoenix | (602) 233-2883 | 4301 Mohave St., Phoenix, AZ 85043 |
| Portland | (503) 535-6250 | 5820 North Basin Avenue, Portland, OR 97217 |
| Reno | (775) 356-2200 | 1300 Franklin Way, Sparks, NV 89431 |
| Raleigh Nc | (919) 596-4698 | 7508 Precision Drive, Raleigh, NC 27617 |
| San Antonio | (210) 224-7242 | 3901 Seguin Road, San Antonio, TX 78219 |
| Utah | (801) 972-5537 | 1150 Gladiola Street, Salt Lake City, UT 84104 |
| West Palm Beach | (561) 845-6311 | 5303 East Avenue, West Palm Beach, FL 33407 |
Company Details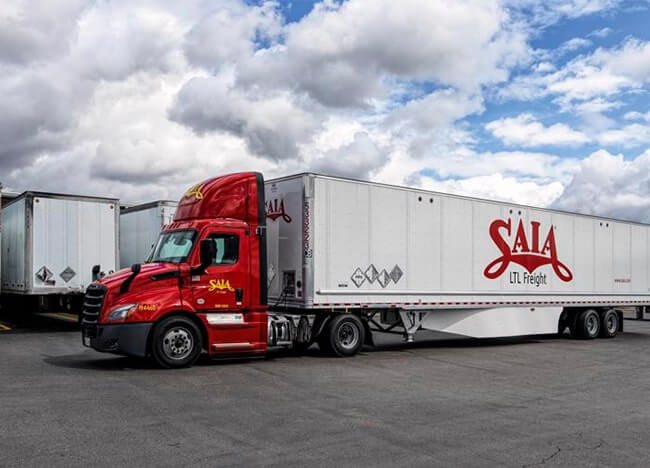 Saia courier is a third-party logistics company that was incorporated in 1924 in Houma, Louisiana by Louis Saia. It handles 26,000+ shipments daily. It employs 11,000 people worldwide with a tenure of 8+ years. It has been recognized by the American Trucking Associations Safety Management Council. It has nearly 170 terminals and offices in 42 states.
The original operation provided service for fifty years before expanding into other states within the South, with mergers adding coverage to thirty-six additional states.
In 2020, they generated over $1.8 billion dollars in revenue with their top ten ranking among other companies that provide LTL service.
Saia continues its legacy as one of this nation's most trusted companies striving towards excellence every day.
Services
It is offering services like:
Full value coverage
Expedited shipments
Logistics services
Distribution and consolidation etc
For more information, you can visit the link given below
https://www.saia.com/products-and-services
How do I track a package from Saia?
Using the Easytrackings tracking service, you may keep track of Saia Courier's status online. To track and trace the delivery status of your cargo, enter your courier tracking number above.
What carrier is Saia?
Saia LTL Freight is a reliable carrier partner of Unishippers.