Easy trackings is an automatic trace and track system that helps you track the details of your Madhur courier, consignments, parcel, orders, and shipments online. You just have to enter your Madhur courier tracking id/docket no./ref number or C note no in our track and trace tool.
Madhur Courier Customer Care
Contact number: 0755- 4022222 / 4022211.
Email: [email protected]
Head office: 231/232 Shalimar Trade Centre Hamidia Road, Bhopal-462001 Madhya Pradesh, India.
Official Website: https://www.madhurcouriers.in/
Madhur Courier Branch List
BRANCH
CONTACT NUMBER
ADDRESS
Ahmedabad
+917966619120
A – 43, Ghantakarna Market, Near N.C.M, Ghantakarn Mahavir Market Road, Ghantakarn Mahaveer Market, Sarangpur, Sherkotda, Ahmedabad, Gujarat 380002, India
Agra
+915622521909
38/4-B Block-B Shop No 5-6, Sanjay Place, Agra – 282002 Uttar Pradesh
Bhopal
+917554700131
20, Berasia Rd, Nagar Nigam Colony, Raj Deo Colony, Qazi Camp, Bhopal, Madhya Pradesh 462001, India
Bilaspur
+917752403017
Bajrang Complex, A- 14, Telipara Rd, Opp. Naresh bazar, Imlipara, Bilaspur, Chhattisgarh 495001, India
Bangalore
+919342872624
JC Rd, Doddamavalli, Sudhama Nagar, Bengaluru, Karnataka 560002, India
Bhilai
+917884051739
F 177 Akashganga Complex , Supela City : Bhilai Chhattisgarh India.
Pincode: 490023.
Chhindwara
+919301310398
5, Vaishnav Complex, in front of Alka talkies, Chhindwara, Madhya Pradesh 480001, India
Delhi
+911123588886
2818-19, Gali Number 5, Bazar Sangatrashan, Aram Bagh, Paharganj, New Delhi, Delhi 110055, India
Faridabad
+919818336064
16/6, Arjondi, Mathura Road, Faridabad, Haryana, India
Gwalior
+917514011862
Koteshwar Rd, shiv sadan, Gwalior, Madhya Pradesh 474003, India
Gurgaon
+911244228589
Old RAILWAY ROAD,SHIVPURI MORE ,ADDJOING ARYA Coching CENTER, Gurugram, Haryana 122001, India
Indore
+917316992687
121, Ranipura Main Rd, Jagjivan Ram Mohalla, Ranipura, Indore, Madhya Pradesh 452007, India
Jabalpur
+917614070587
Main Road, Jabalpur City, Naya Bazar, Malviya C, wk, Jabalpur, Madhya Pradesh, Main Road, Jabalpur City, Jabalpur – 482002, Naya Bazar Super Market , Jabalpur , Madhya Pradesh, India
Jaipur
+911414022511
G-9. windsor plaza, near chandpol metro station, Sansar Chandra Rd, Jaipur, Rajasthan 302016, India
Jodhpur
+919314720404
Shop No.22,MG Hospital Rd,, Rai Bahadur Bazar,Ratanada, Jodhpur, Rajasthan 342001, India
Kota
+919251063178
252, Mohsin Manzil Shooping Center, Kota, Rajasthan – 324007
Ludhiana
+919988693455
Jagat Nagar, Rahon Rd, Valmiki Chowk, Ludhiana, Punjab 141008, India
Mumbai
+918422019097
145 Narayan Dhuru Street, Shop No.4 Ground Floor, Masjid Bunder 3., Mumbai, Maharashtra 400003, India
Mandsaur
+917422245110
Ashok Talkies Road, Mandsaur H O, Mandsaur – 458001, Opposite To Ashok Cinemas Janakpura
Nagpur
+917122767313
santosh nivas, pathar phod dargah, jalal pura, Gandhibagh, Nagpur, Maharashtra 440002, India
Pune
+912026129539
Shop No. 41, Basement, Ashok Vijay Complex, 326, M.G. Road, Camp, Pune, Maharashtra 411001, India
Raipur
+917714037581
Great Eastern Rd, opposite Bunkar Society Complex, Amapara, Raipur, Chhattisgarh 492001, India
Rewa
+917662407722
blacberry showroom, Ground floor – B/6/08, Ward No.18 Shilpi plaza, Kothi Compound Huzur,Rewa, Madhya Pradesh, 486001 Behindi, Rewa, Madhya Pradesh 486001, India
Ratlam
+918109978174
3, Palace Road, opp. S.R.Petrol Pump, Nazarbagh, Bohra Baakhal, Ratlam, Madhya Pradesh 457001, India
Surat
+912612341033
523 Shri Hari Market, Behind Jash Market Fudina Wadi Ki Gali, Ring Road, Surat, Gujarat 395002, India
Madhur Courier Satna
+919425157309
Jaistamb Chowk, Satna Ho, Satna – 485001
Ujjain
+919826706805
Shahid Park, Siddhi Vinayak Trade Center, 23, Ujjain, Madhya Pradesh 456010, India
Udaipur
+912945100665
Lodha S.M. Complex, 130, University Rd, Ashok Nagar, Udaipur, Rajasthan 313001, India
Vadodara
+912652361547
8, Aurobindo Ghosh Rd, Unique Trade Center, Opposite Surya Hotel, Sayajigunj, Vadodara, Gujarat 390005, India
Madhur Courier Tracking Service
Madhur courier provides quality services to its customers like domestic service, air cargo, surface cargo, ODA services, etc.
What is the tracking number of Madhur courier?
Madhur courier's tracking number consists of 10 digits. When you send your goods through them, they give you a receipt. The tracking number is written on the top of the recipient.
How can I track my Madhur courier consignment?
You can easily track Madhur courier consignment via easytrackings.com. Just enter your tracking number/ id/ docket, reference, or C-note in our track and trace tool and press the track button. All the details including the current shipment status and expected delivery date will be shown.
About Madhur Logistics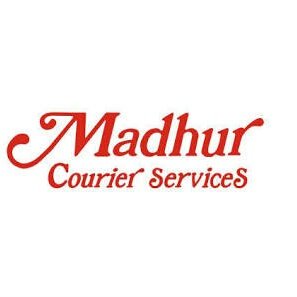 Madhur logistics is one of the pioneer courier companies in India. It was founded by Shri Mohan Lal Kotwani on 1st June 1986. The company started its career as a small industry and later through its extreme efforts, it expanded its network. Currently, it has:
Branches: 2,500 branches in India
Zonal offices: 13 zonal offices
Regional offices: 15 regional offices.
Madhur courier tracking pin codes: 6000
It is offering its services at very competitive rates.