Gati Kwe Docket Tracking
Easy trackings is an automatic system that helps you to track your Gati KWE courier online. It provides tracking details of your couriers, consignments, shipments, parcels, orders online. For tracking the status of your shipment you have to submit your Gati KWE tracking id.
Gati Kwe Customer Care
For any query and complaint, you can contact Gati KWE through the given helpline number
Gati KWE contact number: +91-1860-123-4284
In case this number is inaccessible, please call on
(0712) 7144284
From Outside India +91-712-7144282
Email: [email protected]
Official Website: https://www.gatikwe.com/docket-tracker/
Gati Kwe Branch List
BRANCH
CONTACT NUMBER
ADDRESS
Ahmedabad
+917600061403
Plot No 2 Ashwamegh Industrial Estate, H No:8A Ashwamegh Indl Estate
Chnagodar Ahmedabad - 382210, Gujarat, India
Allahabad
+91789774084
Gati Limited. Plot No-152/154, Transport Nagar Allahabad- Allahabad-211011Allahabad211011Uttar Pradesh – 211011
Aurangabad
+917709005076
C-12/4, MIDC, Chilkalthana, MIDC, Chilkalthana, Aurangabad, Maharashtra 431006, India
Bangalore
+918023725119 +919741160132
Gati KWE Ltd, Plot No – 5 – C, Peenya 1st Phase, Peenya Industrial Area, Bangalore – 560058
Bhubaneswar
+919937937643 +919937296005
Gati Kwe, Plot No. 503, Nakhara, NH 5, Balianta Post, Khurda, Bhubaneswar
Chennai
+919840702026
No. 8/25, Kambhar Street
Alandur Chennai - 600016, Tamil Nadu, India
Coimbatore
+919789469335
1/155, Vjaya Complex, Avinashi Main Road, pincode-641062, Coimbatore
Delhi
+91 9587398658
gati,gati kwe in delhi, RZH 288, Street Number 9, Palam Colony, Raj Nagar II Extension, New Delhi, Delhi 110077, India
Gurgaon
+918800792758
Qila No- 9/2/2, Gurgaon Sector 18, Gurgaon - 122015, Near Iffco Chowk,
Guwahati
+919678002875
Garchuk, Guwahati - 781009, Dhirenpara
Hyderabad
+914071204284
Gati Kintetsu Express Pvt Ltd. Plot No.20,Survey No.12 Kothaguda,Kondapur
Hyderabad-500084
Indore
+917869962611
Dewas Naka, Lasudia, Indore - 452001
Jaipur
+919950577732
GATI KINTETSU EXPRESS PVT LTD NEAR BHAKROTA POLICE STATION NH- 8 , AJMER ROAD , JAIPUR
Kolkata
+913324017488
Gati Kintetsu Express Pvt Ltd.
P-18, Ground Floor, Taratala Road, Kolkata – 700088 West Bengal, India
Lucknow
+917897740702
C-7, Transport Nagar, Near Rto, Kanpur Road , Lucknow Lucknowlucknow226012Uttar Pradesh - 226012
Mumbai
+912240324284
Gati Kintetsu Express Pvt Ltd.
Unit No. 501, 5th Floor, Ackruti Star, Gautom Nagar,MIDC, Andheri (East) Mumbai
Madurai
+918012719744
No.17, East Perumal Theppakulam, Madurai City, Madurai - 625001, Opp to Ibrahimshah Electronics
Surat
+917600061577
Kumbharia Main Rd, Tekra Falia, Kumbharia Gam, Surat, Gujarat 395010, India
Vadodara
+917600061600
Block No 78, B/H Shiv Shakti Steel N H 8, Opp Minal Petrol Pump Dashrath,Vadodara – 391740 Gujarat
About Gati Kwe Pvt. Limited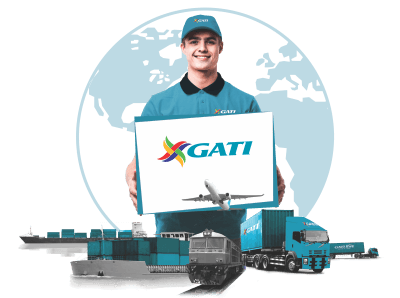 Gati-KWE is a joint venture company between Gati –India's pioneer logistics company and Kintetsu World express –one of the leading courier companies in Japan.
Gati KWE head office: Hyderabad, India
Annual turnover: Rs. 15273 million
Districts: It has spread across 99% of Districts in India
Vehicles available: 5000+
Airline sectors: assured space across 32 airline sectors
Mission:
" Its mission is always customer-centric and provides well-governed logistics worldwide. "
Services Offered
Gati KWE offers services like :
Express distribution
Warehousing
End to end SCM
M-VATS (Transportation) etc
How do I track my parcel from Gati?
Enter the tracking number you received from Gati in the field above to follow the progress of your package with Gati couriers. You may also check the progress of your package on the company's official website.