Easytrackings is an online trace system that helps you to track the status of your courier, consignments, parcels, orders online. To trace your Franch express courier please enter your tracking number/ tracking ID in our trace and track tool.
Franch Express Customer Care
Franch express customer service number: +044 66 33 23 33
Email: [email protected]
Address: 199, Hariyan Street, C.Pallavaram, Chennai – 600 043
Franch Express Branch List
Branch
Contact number
Address
Bangalore
+91 80 2691 5046
#39, 1st Main, Mysore Road, Near Indian Bank, New, Old Guddadahalli, Guddadahalli, Bengaluru, Karnataka 560026, India
Erode
+91 98420 26447
PS Park Clock Tower, 13, Municipal Complex Kamarajar Street, Brough Rd, Erode, Tamil Nadu 638001, India
Tirunelveli
+91 0462 2337160 +91 0462 2330530
Thirunelveli Junction, 128, A.P Mada Street Town, Tirunelveli, Tamil Nadu – 627006
Trivandrum
47124 69971
No.tc 29/1714, Perumthani, Ks Store West Fort, Vallakkadavu, Thiruvananthapuram – 695008
Hyderabad
+91 80089 01480
Maxx Chambers, No: 1-8-308 #5, Patigadda, Begumpet, Hyderabad, Telangana 500016, India
Hosur
+91 98423 32636
#77C , BALAJI COMPLEX NEAR LAKSHMIVILAS BANK, Hosur, Tamil Nadu 635109, India
Madurai
+91 99760 38565
N Masi St, near G M R Masi lorry set, Madurai Main, Madurai, Tamil Nadu 625001, India
Pondicherry
+91 0413 4306226
+91 7871911407
+91 9688355077 +91 9688255077 +91 9842453322
No 230, Groud Floor, Thiruvalluvar Salai, Pillai Thottam, Saram, Pondicherry – 605013, Behind Manimegali School, Opposite SR Kalyana Mandapam
Tirupur
+91 93455 25059
PN Rd, Laxmi Nagar, Tiruppur, Tamil Nadu 641602, India
Trichy
431 2310288
+91 9788822700
No 79, 1st Flour, Ramakrishna Nagar, Kallukuzhi, Trichy – 620020
Vellore
+91 90807 16438
Katpadi Road, Katpadi Road, Near Nixon Studio, Katpadi Road, Vellore, Tamil Nadu 632004, India
Franch express logistics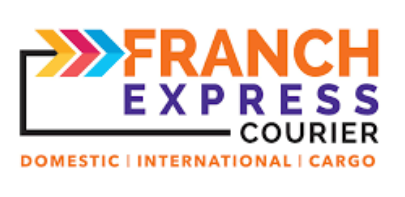 Franch Express Courier Pvt.Ltd., one of the leading couriers in South India, has been operating since 1987 and is widely recognized for its reliability to deliver goods on time with expedience across large distances within a short period without compromising quality services at an affordable price point because we embrace our rural roots which are situated all over five states namely Tamilnadu, Kerala, Karnataka Andhra Pradesh Telugu Planations.
Their network of 73 hub locations in India ensures that you can get anything shipped anywhere by sea or air. You may be able to find an easier way, but they've got all your shipping needs covered!

The team includes 250 traveling representatives who will help with whatever happens along the way; 1000 staff at offices around India are ready 24/7 when things go wrong – they speak English fluently so there's no language barrier either-and come fully equipped with everything necessary. They also have professional department heads managing various aspects including sales & marketing, IT security, etc., together forming one solid unit working towards success across different domains.
Franch Express is more than just a logistics company. They are your partner in connecting supply chains, and our warehouses can help you find new ways to reach customers with minimal inventory risk by providing comprehensive pick/pack services for transportation on-demand as well bulk stacking of goods before they're palletized or crate packed offsite – all so MSC will coordinate distribution effectively through its network nationwide!
They have a fleet of closed body, waterproof vehicles, and Ac trucks that are committed to on-time deliveries. They use GPS systems for the utmost accuracy in tracking road logistics so you can be sure that your order will arrive safely at its destination!

| | |
| --- | --- |
| Company shares | Private limited |
| Leading courier company in | South India |
| Founded in | 1987 |
| Serviceable locations | 9,000 |
| branches | 650 in 5 states of Tamilnadu, Kerala, Karnataka, Andra pradesh, Telugana and Pondicherry |
| Team | 250 travelling representatives 1000 hub staff Innumerable delivery staff |
| Hubs | 73 |
| Vehicles | 200 |
| GPS system | Available |
| Delivery of consignments | 95% delivered in 24 hrs |
Services
It is offering services like:
Express cargo
Full truck load FTL
Ware housing
Express delivery
International delivery
POD
Value added services that includes contractual vehicles, safety plus, smart app and client dash board etc
For more details you can visit the link given below:
How do I track my order from Franch Express?
Using the Easytrackings tracking service, you may keep track of Franch Express's status online. To track and trace the delivery status of your cargo, enter your courier tracking number above.