Easy trackings is an automatic tracking system that helps you track Bestway freight online. Just enter your tracking number in the below field and click on the track button.
Bestway Freight Customer Service
Contact Number: 1-913-601-5055 – Office: 8:00am – 5:00pm
Email: [email protected]
Company Headquarters: 10314 Shawnee Mission Pkwy Shawnee, KS 66203
About Bestway Freight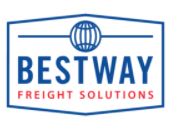 Bestway International, Inc. was founded in 1988 by Richard Devers and Don Gore as a small group of devoted logistics experts determined to use their business experience to create strong, worldwide partnerships and assist their clients to flourish. From the beginning, the objective has been to provide professional supply chain solutions by combining excellent local customer care with access to large worldwide forwarding networks and resources. From 1988 until 2005, the firm worked in conjunction with MSAS Cargo International, which later became Exel Global Logistics, until Exel was purchased by DHL Global Forwarding. In 2005, Bestway joined Hellmann Worldwide Logistics, a family-owned company, to expand its worldwide network to approximately 500 locations in 167 countries.
Check: Bestway Trucking