AIT Worldwide Logistics Inc Contact Details
Customer Support Phone number: +1 800 323-6649, (630) 766-8300
Fax Number: +1 630 766-0205
Main Office Address: 701 N. Rohlwing Road Itasca, IL 60143, USA
AIT Worldwide Tracking Number Format
The most typical tracking number is between 8 and 10 characters. You will get a bill of lading when you send anything from AIT. The waybill has the tracking number on it. There could be additional typical types as well.
E. G. 1234567890
About AIT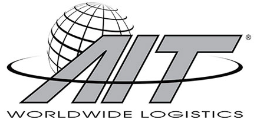 Since 1979, Itasca, Illinois-based AIT Worldwide Logistics has been assisting firms to grow by offering delivery services and inventory control programmes that let clients trade and buy raw materials, equipment, and completed items in global markets. They have developed reliable links in almost every sector, such as aviation, e-commerce, agriculture, administration, healthcare, biosciences, commerce, and many more, thanks to their advising style and extensive worldwide network.
Import duties, material handling, and white glove assistance are also available through AIT's full-service choices, which are staffed at more than 100 locations globally in Asia, Europe, and North America, such as their head office in Chicago and branch offices in London and Hong Kong. And their commitment to their fundamental values—excellence and adaptable, user-friendly technology—underpins all they do.
Their goal is to enhance the international shipping distribution network, from enabling just-in-time storage to make deliveries straight to consumers' doorsteps, to transporting safe, time-sensitive, or massive goods across the globe. Due to its extensive global network of partners and services, AIT's customers receive carefully planned supply chain solutions for ocean, air, and land freight—on time and under budget. Additionally, AIT's values-driven environment is valued by their international coworkers, earning them a place on Forbes' ranking of America's Best Midsize Companies in 2022.
How do I track an AIT?
Using the web tracker provided by Trackingsinfo, you may follow your packages. You need only enter your tracking number in the space above. Your package's information in its whole will be displayed. Please visit their official website for additional information.
What is AIT shipping?
The greatest international airlines in the world work with AIT because it can offer regional gateway administration and capability improvements for exporting and importing goods.